6 Beach Blanket Must Have's For Summer
Beach in a Blanket...
Beach blanket must have's for summer, already? Since summer decided to pop up on me, unannounced, with the rudeness, I have no choice but to completely improvise and get everything I need STAT! There are so many summer events that I'll be avoiding attending and I can't really be trusted to try to up-cycle all of my summer stuff from last year. Besides, it gives me an excuse to shop! Duh. One of the things I went without last summer, and definitely regretted, was not splurging on accessories, specifically, something cuter than a towel, to protect my ass from the hot sand when laying out. So, I've found 6 Beach blanket must have's for summer that I have my eye on right now.
GET LIPPY
Talk about beach blanket must have's for summer! This Red Lips tapestry is just the right amount of YES and I want it all up in my beach bag this summer! Plus, it's cute AF and lightweight enough to use off of the beach, and as a piece of home decor if you really wanted to. I have a thing for art that is lips with smudged, lipstick. So this beach blanket gets my vote.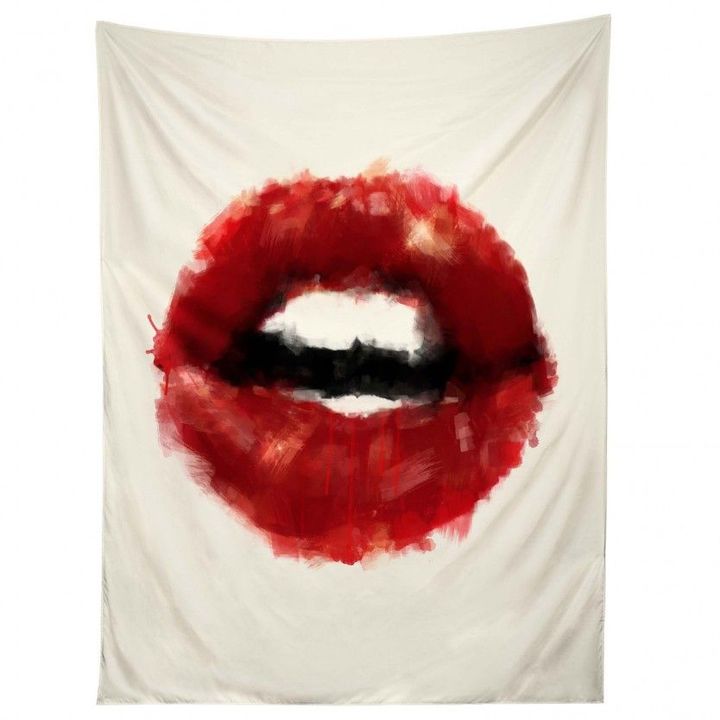 GET COZY
Being in Cali, we often have a ton of bon fire parties, and it gets cold AF, which is why I fell in love with this Peach Sand Blanket by Tierra Collection. The fact that it comes with leather straps for easy storage and carrying, makes this a fave on the beach blanket must have's for summer list. The super cute aztec design is another bonus. I gotta have it! Can definitely get a lot of use out of this baby, especially when I'm taking a quick 5 minute snooze on the beach. A lazy girl's got to have her beauty sleep.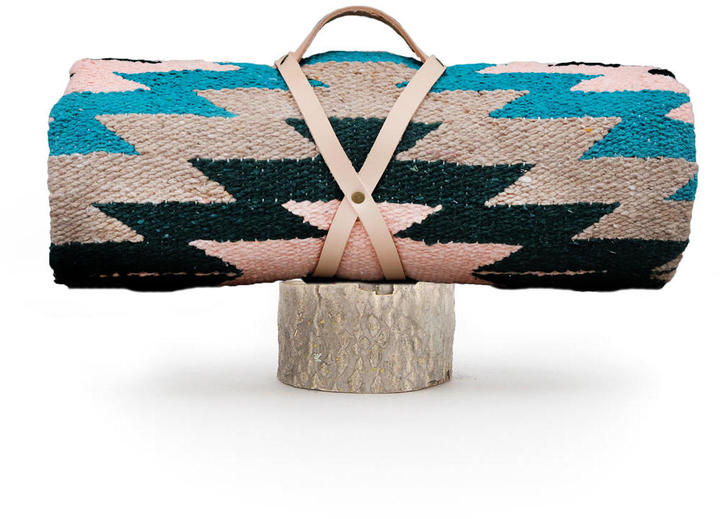 BITE ME
Nothing screams "I'm an adult" like this big ass pizza beach blanket from Big Mouth! If you don't think this is is a YES DEFINITELY, on the beach blanket must have's for summer list, then your life is more than likely a bore, and you have no friends because this cheesy creation is everything. Did I mention that it also comes with a zippered pouch that doubles as a beach tote, for an extra topping to this massive, 60-inch summer necessity?! How can you not love this awesomeness?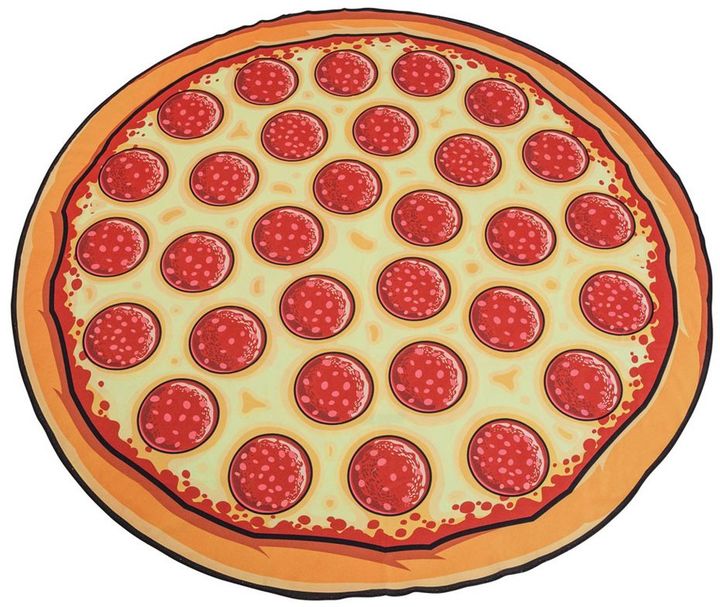 BOHO BEAUTY
You just can't have a beach blanket must have's list without having the sexy round boho tapestry on the list. I wanted this one last year, and failed to grab it, so this summer, it's a need. In love with any and mostly all things bohemian, I'm a sucker for the bright colors and sexy design of this Indiana round beach blanket. Just imagining how cute it will be for faking  taking the perfect IG selfies with my girls.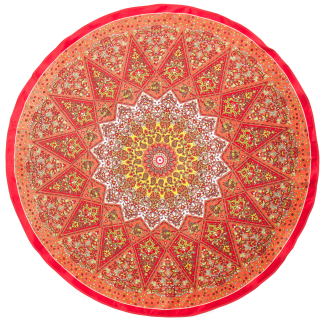 DOUBLE UP
Whoever thought to create this cute ass towel for two, is a genius and I love their life! It's like the full size bed of tapestries and just for that reason alone it's on my beach blanket must have's list. The Native American design is just another added bonus. There's always that one friend who forgets her shit, and this is perfect for sharing… or maybe you're a little more mature than me, and actually have a lover that you can share yours with. To each her own. All I care about is the sexy that is this beachy yumminess!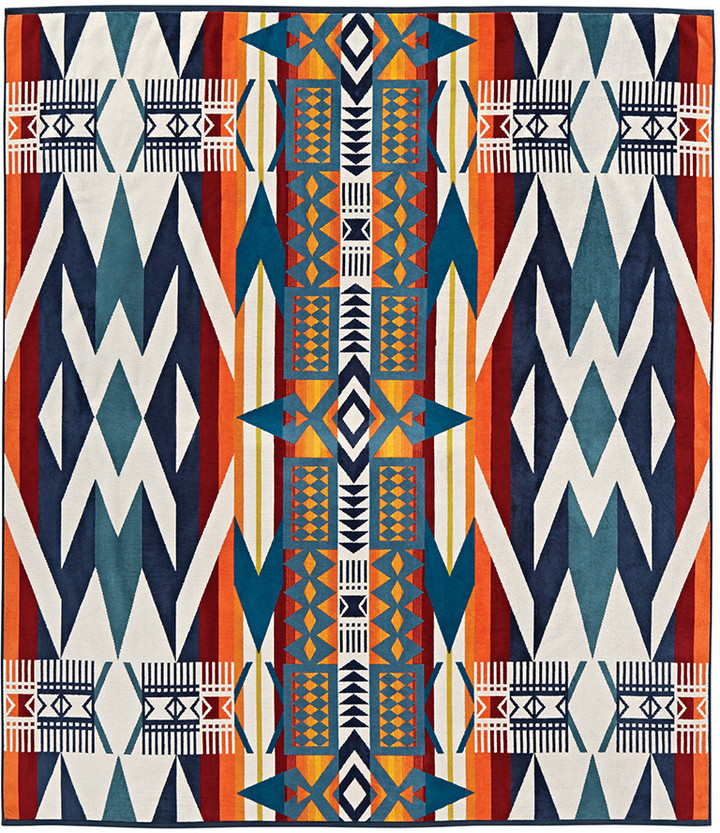 SPIN IT
Okay. It's just that I am in love with the pattern on this Vagabond beach round towel by MUMU that allows it to make it on the beach blanket must have's list. Any way you spin it, it's got a different look, and pattern, and I'm kind of into the simple yet sexy black and white print because it will go with, like everything.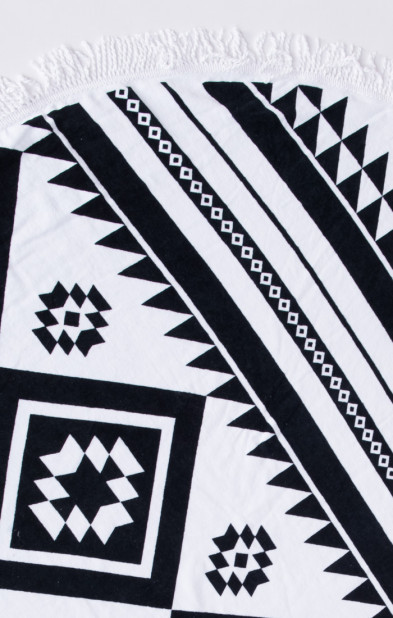 So, there you have it! A full of list of beach blanket must have's for summer, featuring 5 faves that I'm drooling over.  Now it's time to snatch them up and throw them in the bag! Now your turn. What's on your list of beach blanket must have's? Tell, or show us in the comments!
GET YOUR BLANKET ON! SHOP THE POST: