The Perfect Gift Guide Under $25 For Her Personality Type
A Gift for the Naughty and Nice
Gift Guide Under $25 For Her Personality Type
A gift guide under $25 for her personality type is exactly what you need to follow this year. The best gifts to receive are the ones you'll actually love and use. Show you're not as selfish as you come off sometimes, and put some thought into it. Gravitate toward giving gifts that match "her" personality. From the lazy girl, to the girly girl, and even the one who's always organized, we've found a gift for her that she will love, and they're all under $25.
THE SLEEPY HEAD
A gift guide under $25 for the personality type that we just get! The sleepy head. She'd much rather be sleeping than adulting. These are all sleepy head approved gifts that she will love and use to snooze.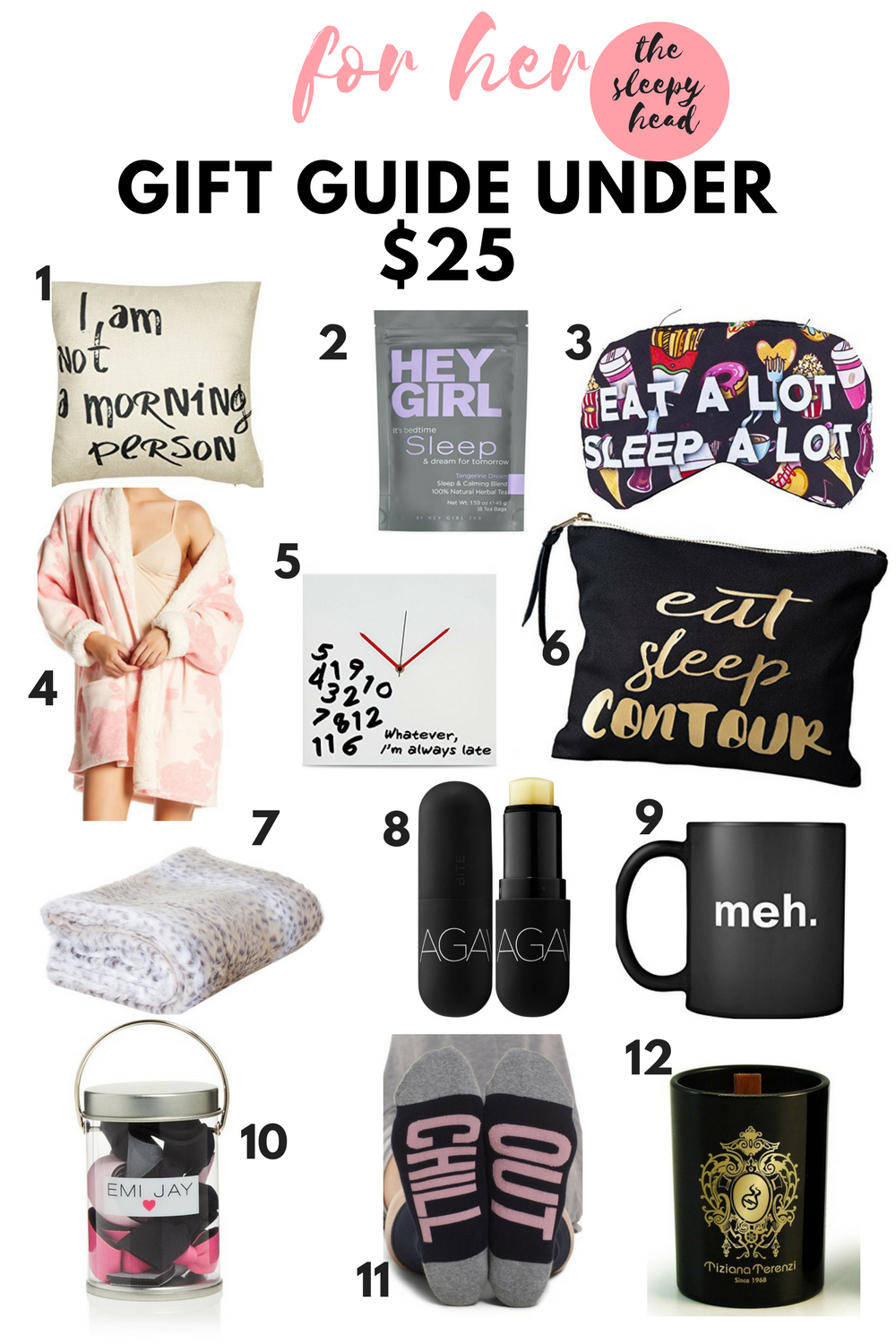 THE MUSIC LOVER
This gift guide under $25 is perfect for her personality if she's a music lover. A  list of perfect gifts in perfect harmony with all her musical needs.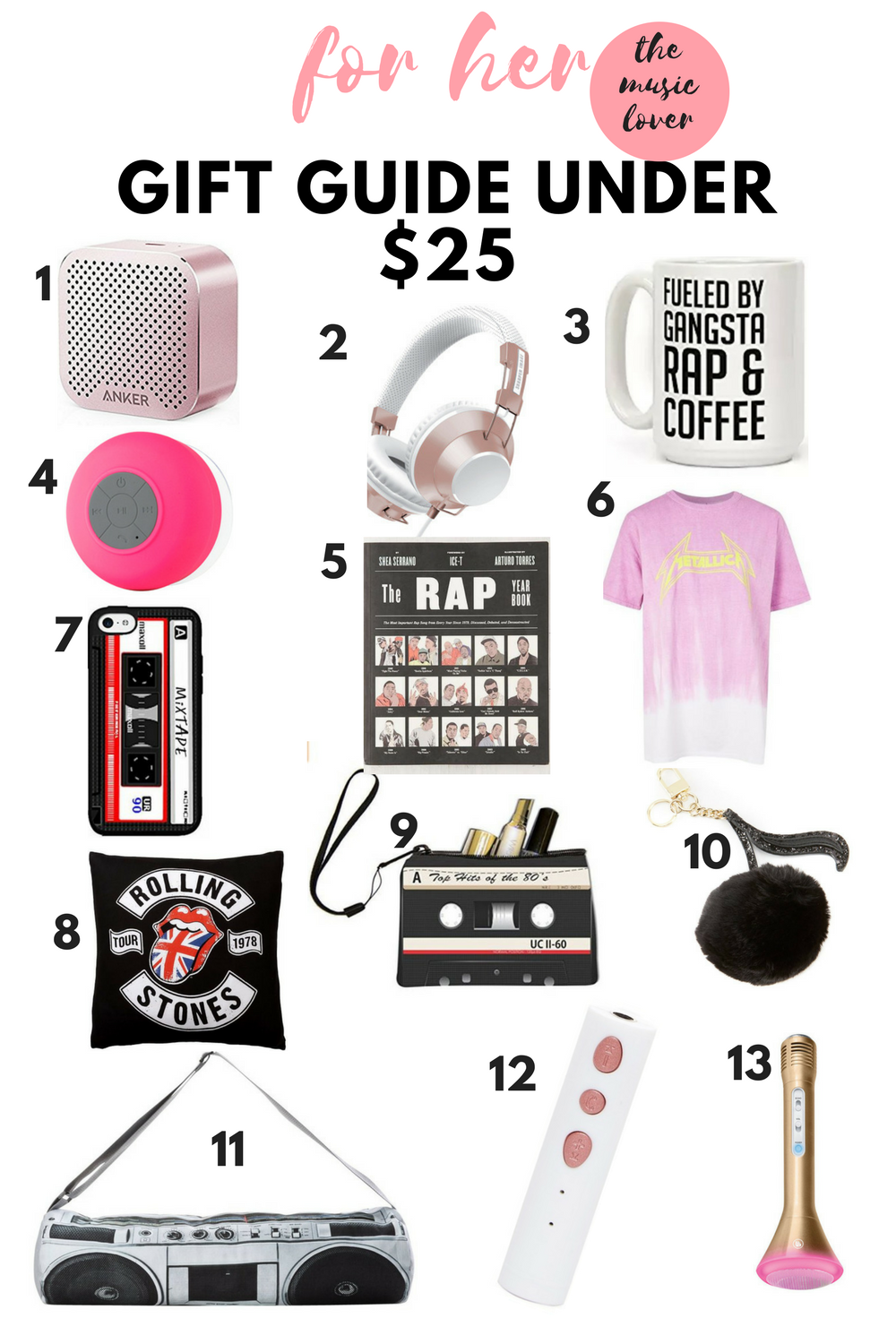 1 Bluetooth speaker  2. Premium headphones 3. Gangsta Rap Mug 4. Waterproof bluetooth speaker 5. The Rap Yearbook  6. Metallica Tee  7. Mixtape Iphone Case 8. Rolling Stones Pillow 9. 80's Cassette Makeup Bag 10. Music Pom 11. Boombox Yoga Mat Bag 12. Bluetooth Converter 13. Bluetooth Microphone 
THE GIRLY GIRL
The gift guide for the girly girl. She loves looking and smelling good, and these are the perfect items, under $25.00 that she'll love.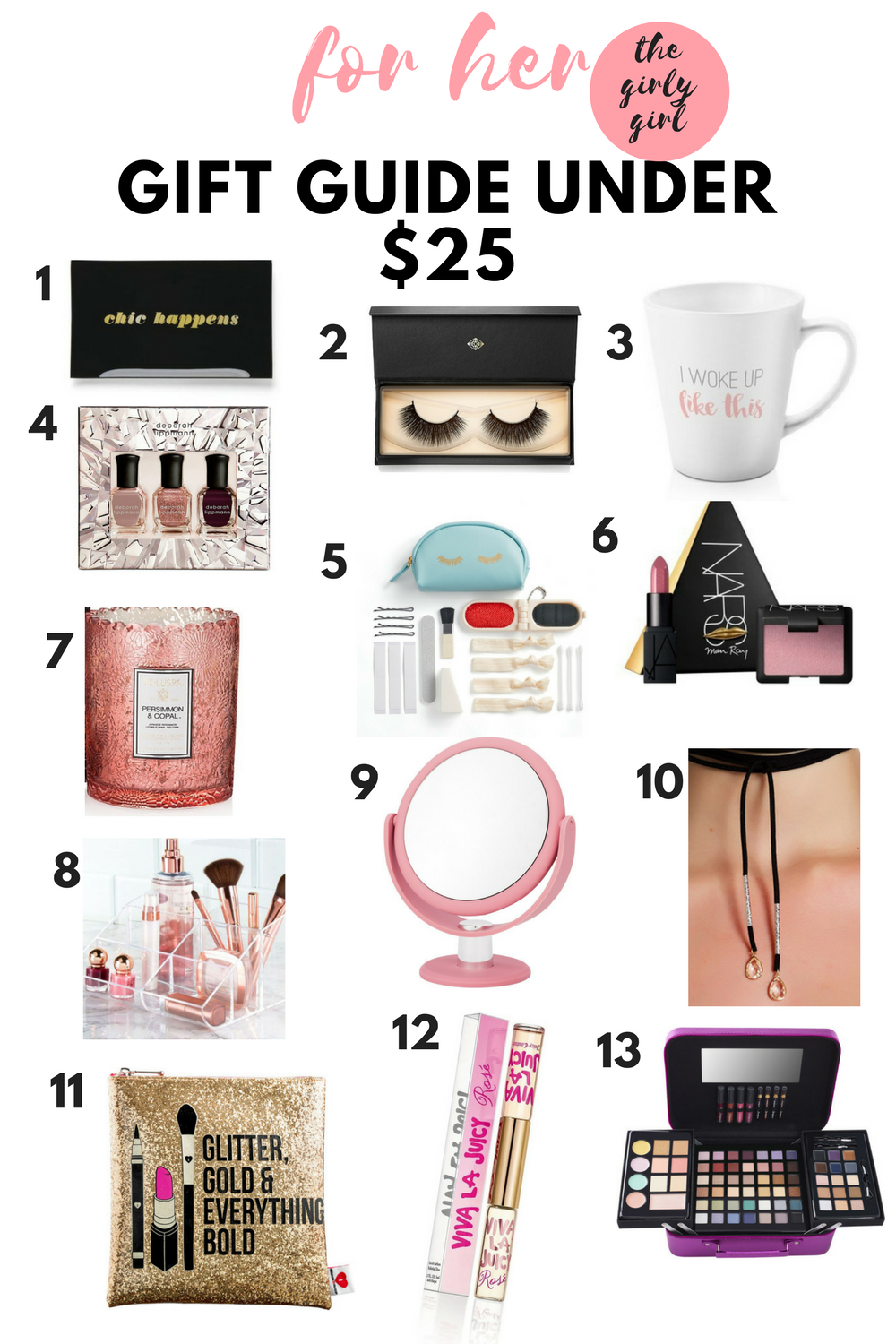 1. Chic Happens Tray 2. Lash Star Lashes 3. I Woke Up Like This 4. Deborah Lippman Polish Kit 5. LC Cosmetic Kit 6. Nars Triangle Set 7. Voluspa Persimmon candle 8. Makeup Organizer Tray 9.  LED Mirror 10. Suede Tie Choker 11. Glitter Gold Makeup Case 12. Viva La Juicy Roller Ball Perfume 13. Ulta 76 Piece Collection 
THE GOAL GETTER
A gift guide perfect for the goal getter. She's a busy girl full of hustle. Here are the perfect essentials for her, and under $25.00.
1. Bold, Fearless, Strong Dish 2. Ban.Do Agenda Starter 3. But First Coffee Travel Mug 4. Ban.do Power Trip 5. I Am Very Busy Iphone Case 6. Umbra Poise Jewelry Tray 7. Hearts, Hustle, Coffee Shirt 8. Hand/Cup Pen Holder 9. Velvet Backpack 10. Ban.do I am Very Busy 2018 Agenda  11. Marble Mac Book Case 12. Wireless Travel Keyboard 13. Gold Pineapple Jewelry Dish 
 THE DRINK INDULGENT
Anything on this list makes this the perfect gift guide under 25 for her personality type if she's the happy hour indulgent. She sips her wine, or follows her heart as it leads her to the bar…for a margarita or two. From tumblers to coasters, these gifts pair nicely with her "let's get lit" personality.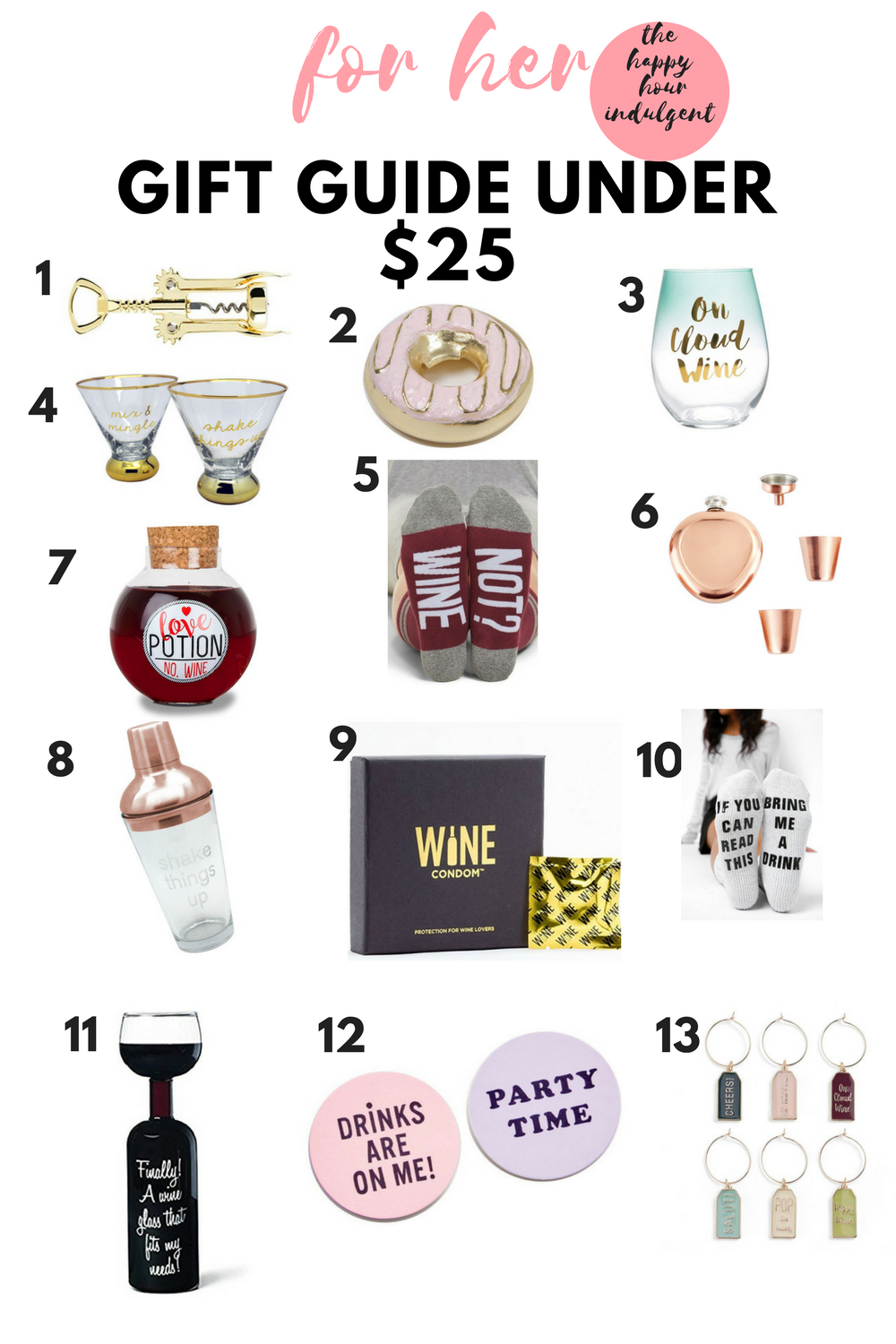 1. Golden corkscrew 2. Donut Bottle opener 3. On Cloud Wine stemless glass 4. Mix & Mingle Martini glasses 5. Wine Not Socks 6. Heart Flask Set 7. Love Potion No. Wine  8. Shake Things up Shaker 9. Wine Condom 10. Bring me a drink socks 11. Large Wine Glass 12. Drinks/Party Coasters 13. Cocktail Wine Charm Set
With this perfect little gift guide under $25 for her personality type, you're sure to win everyone over. Giving gifts can be less stressful if you go with gifts that they'll love, and they'll love anything that speaks to their soul. If you're feeling any of these gifts for yourself, indulge! Tis the season to treat yo'self and be merry too! Oh and feel free to Pin to your Pinterest boards, or share with others who will love these awesome gift guides!
xoxo Jae and Jacquel